Fossil Free News is published every 2 weeks. To get updates like these directly to your inbox, make sure you sign up: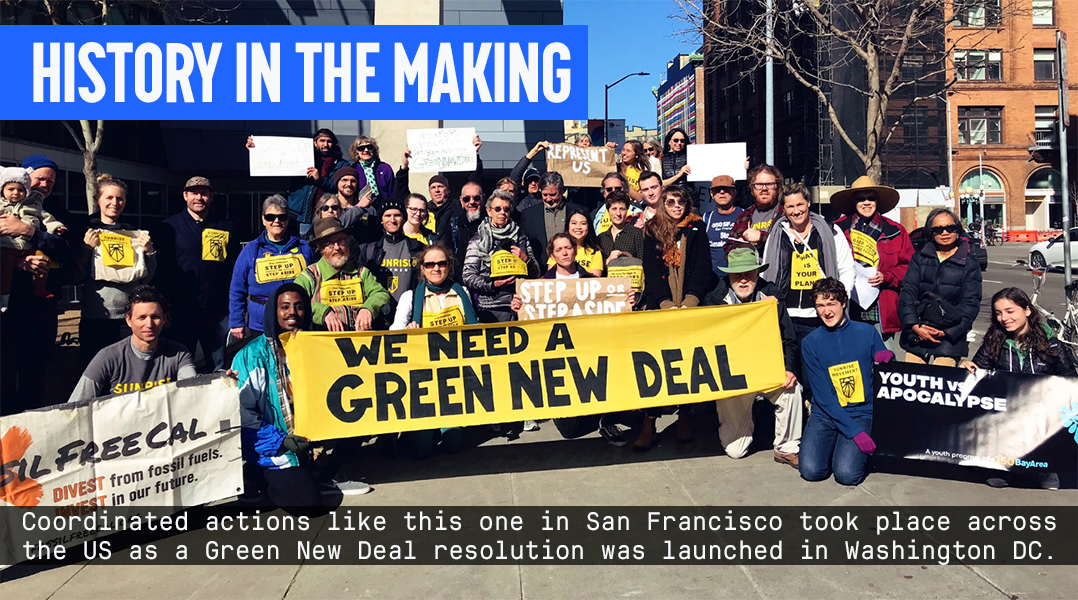 In Case You Missed It
Rapid death of coal: There's been a cascade of banks backing out of big coal projects since I last wrote. In Japan, a massive coal-fired power plant planned for Chiba prefecture, across the bay from Tokyo, has been abandoned. Campaigners estimate the decision will avoid 12 million annual tons of CO2 emissions. Now they're working to ensure a liquified natural gas (LNG) plant doesn't get put on the same site. Meanwhile in British Columbia, Canada, a planned coal port that would have shipped coal over to Asia to be burned was rejected, after years of protest. And 2 more coal plants that were the sites of local resistance were defeated last week in Turkey and Australia, where a stinging court judgement cited the carbon budget and climate change.
In South Africa too, a series of banks are walking away. First, Nedbank announced they'd stop funding coal altogether, notably pulling out of Thabametsi and Khanyisa plants. Then First Rand Group quickly followed, dropping Thabametsi. This momentum suggests the Development Bank of South Africa (DBSA) and ABSA, the last commercial bank on the project, might follow suit soon. You can help: add your voice to the call for the DBSA to say no to coal.
This reminds me of a new campaign launched this week to demand the European Investment Bank (EIB) go Fossil Free. As the world's biggest public lender reviews its energy policy, and with so many commercial banks already dropping out of fossil fuels, it's really a no-brainer. You can sign the petition here and browse the site for more info.
And in the United States, Alexandria Ocasio-Cortez and Massachusetts Senator Ed Markey submitted a much-anticipated resolution for a Green New Deal (GND) to Congress last week. More than 100 events were organized across the country where people delivered a 100,000-strong petition to congressional offices, urging legislators to take a stand. By Monday, almost every Democratic hopeful for President in 2020 endorsed it. If you're wondering how what is arguably the most ambitious climate justice proposal in the country's history went from activist circles to center stage in US politics in a matter of months, consider reading this compelling behind-the-scenes story on its rise.
The Inside Story
Remember this amazing street mural (the world's biggest!) from Rise for Climate? A new project, "We Will Paint the Future", tells the stories of the communities that came together and made it possible. Learn about the history of street murals in activism and hear firsthand from people who were there on that grand day.
And: a handful of 350.org founders reflect on a long overdue but very meaningful win from Vermont: Middlebury College, where 350.org came into being almost ten years ago, finally divested from fossil fuels!
The One to Watch
In Quezon, just southeast of Manila in the Philippines, people are standing strong and pushing back against local government's unquestioning approval to fast track more coal projects in the region. This 3-minute video shows all you need to know.
Podcast Corner

The fourth Global Optimism podcast takes stock of this incredible global moment for the climate movement. In an interview with Greta Thunberg at Davos, she explains the genesis of the now-viral climate strikes. Her interviewer?  Christiana Figueres, who led the UN through the Paris Climate agreement. Hint: Skip to 23:30 for the Greta interview. You can download the full episode at the bottom of this page.
Have Your Say

                                                         Photo: School Strike for Climate 
Every week right here, I give a way to help grow this movement for a Fossil Free world. I've got a special request this time: start looking in to how you can support the global student strike on March 15.
It's not only for students. From taking photos and sharing them online with #climatestrike, to helping sort out on-the-ground logistics, or speaking to other parents and young ones in your family, we can all play a role. Some schools and teachers unions are even explicitly backing the actions. Maybe yours will too?
That's it for now. If you sign up, I'll be back in your inbox in two weeks with more!