On October 15th, the House of Commons on Parliament Hill stayed open late, as an emergency debate was unfolding about the new UN report on limiting global warming of 1.5°C. According to transcripts, 32 Members of Parliament took the floor to speak. There are 338 MPs in total in Ottawa. So it begs the question: which MPs were and weren't there?
We know there are many valid reasons why some wouldn't attend a last-minute session stretching until midnight. From childcare to previous commitments, everyone's busy. But we also know that the climate crisis requires our urgent attention. And more importantly, it requires urgent action.
Visiting MPs offices across the country
One of 350.org's campaigners, Atiya Jaffar, visited her Member of Parliament in Vancouver East, Jenny Kwan, to make sure she knows her constituents are committed to pushing for bold action on climate change. So, she went to her office on Monday — exactly one year from the 2019 federal election.
Delivering the IPCC's catastrophic climate change report took less than half an hour. Here's how she did and you can too:

First, I downloaded and filled out the cover letter to my MP and the IPCC's 1.5ºC summary for policy-makers. Then I headed down to my public library to print out both documents.

Next, I checked Jenny Kwan's office hours and made a plan to take the bus there once it opened at 9:30 AM.

Once I got there, I delivered the IPCC report along with a clear ask for Kwan to pledge to propose, champion and support legislation to update Canada's climate policies and bring them in line with the urgency called for in the IPCC report.

I took photos doing it so I could post it to social media using #1point5Ca. 
Check it out: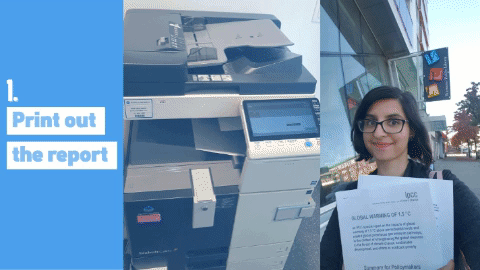 Taking action tomorrow
The IPCC report couldn't be clearer. We can limit global warming to a 1.5°C and avert the most catastrophic scenarios that unleash droughts, wildfires, rising seas, and more frequent hurricanes onto marginalized communities in the world. But we need bold political action that doesn't let the fossil fuel industry stand in the way. Let's make our movement heard loud and clear tomorrow: sign up to join the IPCC report deliveries.
We can't wait any longer to finally see ambitious climate policies that keep fossil fuels in ground, transition our economy to 100% renewables in a just way for workers, and respects the rights of Indigenous peoples while safeguarding the environment.
If your MP is on this list, they spoke at the October 15th emergency debate. So, you can visit their office to commend them for participating and to ask what they're planning to do to put forward more ambitious climate policies. If they are not on this list, they will surely appreciate reading the IPCC 1.5°C report and hearing from you.
Join over 1,000 individuals across the country who have said they're taking action on October 24th along with people from across the country. Find your MP office on this map.
Note that by RSVPing to events, you are signing up to deliver the IPCC report as an individual. You are not joining a coordinated delivery or event, although you should definitely feel free to make arrangements with friends, family, or colleagues!
Over 1000 people will take action all across the country tomorrow to deliver the #IPCCreport to their MP along with a demand to line up Canada's #climatechange policies with science. #1point5ca #cdnpoli

Sign up to deliver a report to your MP! 👉 https://t.co/cRzSW3aoA8 pic.twitter.com/rSUsyKf57N

— 350 Canada (@350Canada) October 23, 2018